We are thrilled to reveal that we will be launching a brand-new UI that will make it simpler for you to browse Databricks.
Consumers desire an easier navigation
At Databricks, we are consumer consumed– it belongs to our culture Consumers are at the center of whatever we do, so we take feedback from our users seriously. One piece of feedback that we have actually heard is that users desire an enhanced navigation experience in Databricks. Over the previous couple of months, we have actually hung around with much of you to find out more about issues you're dealing with and what an enhanced navigation experience would appear like.
Users desire less clicks for each job
In our discussions, we saw that there were 2 primary styles around enhancing navigation. The very first was that you desired it to be simpler to receive from point A to point B in your work area. Often it takes you more clicks than you want to get to your end location; this can be time taking in if you're an innovative user and unintuitive if you're a brand-new user. So we combined search at the top, and revamped the Get going area for the most typically utilized jobs.

Users wish to find brand-new abilities
The 2nd style was that you desired it to be simpler to understand what was offered in your Lakehouse. A number of you discussed that you're impressed by the thorough suite of items we have for your Information and AI requires, however it's not constantly simple to understand that we have particular functions.
With these styles in mind, we had the ability to workshop a couple of various styles with clients and comprehend how well various alternatives resolved the issues detailed above. We are now in the middle of finishing up a pilot of the brand-new UI for Databricks and the feedback throughout this phase has actually once again assisted us construct a more powerful item. To make discovery simpler, we included an area of popular possessions. User feedback is very important to us throughout every action of the item advancement procedure, so we're grateful for these clients that partnered with us.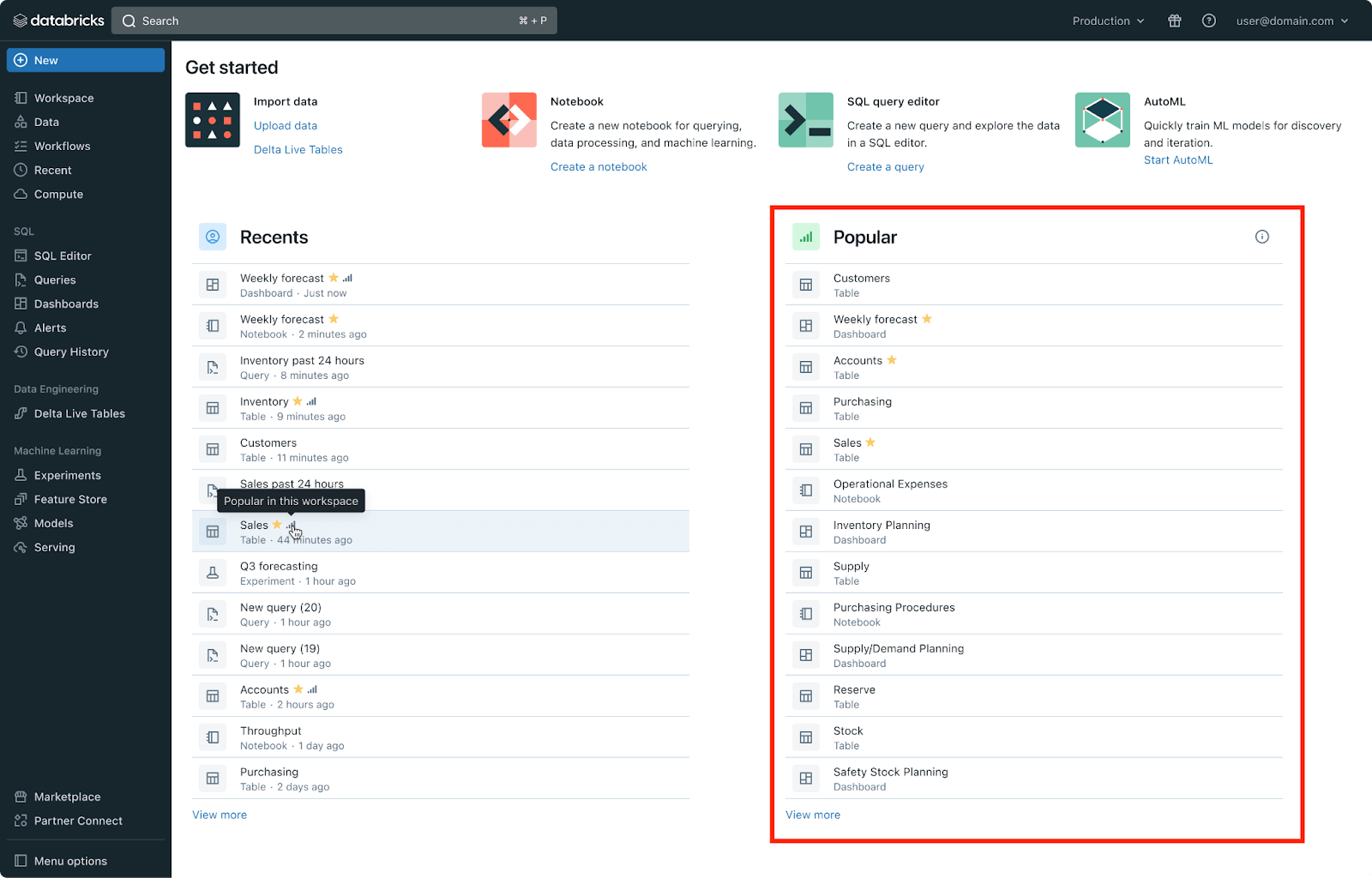 See whatever in a single navigation bar
As you can see below, the brand-new UI will get rid of the item location switcher in the leading left and rather reveal all item locations in a single, unified navigation bar. At the top of the navigation bar, users will have access to the typical pillars of the Lakehouse– Office Web Browser, Data, Workflows, Recents, and Calculate. Underneath are the primary item locations– SQL, Data Engineering, and Artificial Intelligence– that are expandable and retractable so you can concentrate on the item locations your present job needs.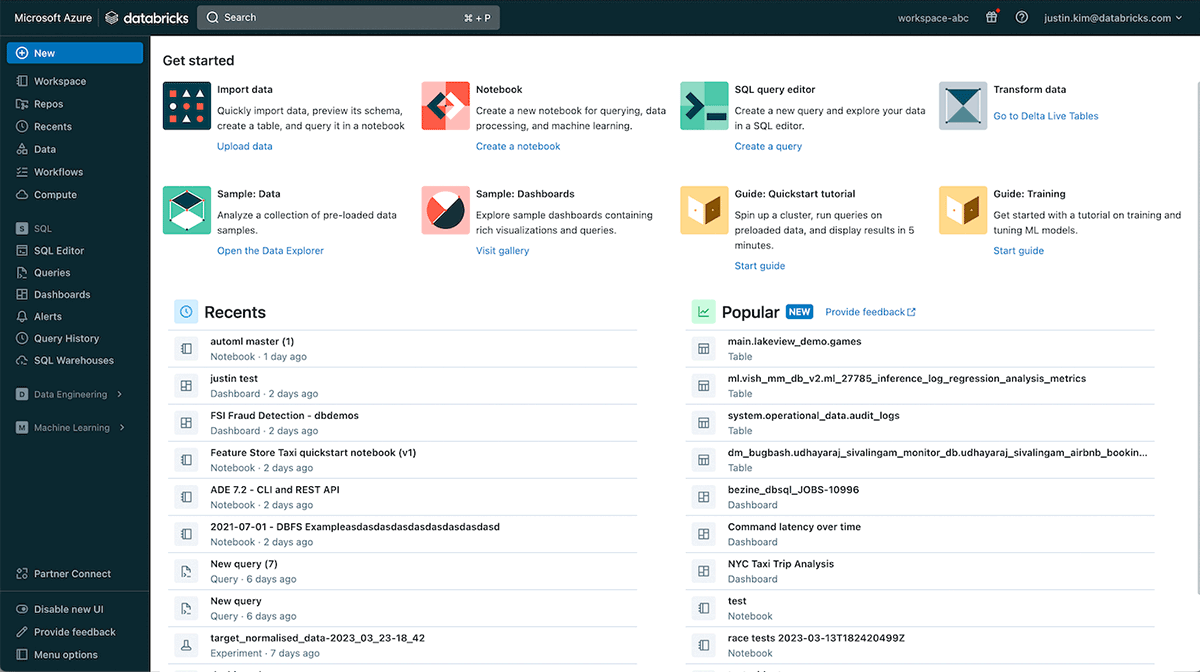 Attempt the brand-new UI yourself
This will be a big UI modification in regards to both the navigation enhancements it's going to supply and the scope of Databricks users it will touch. Just like any big UI modification, it is necessary for us to provide you a chance to attempt it out and supply feedback, so that we can make sure that we supply you with the very best experience prior to we make it the default experience for all users. With that stated, beginning quickly, all users will have the ability to check out the brand-new UI by clicking the "Enable New UI" button in the bottom left of the navigation bar.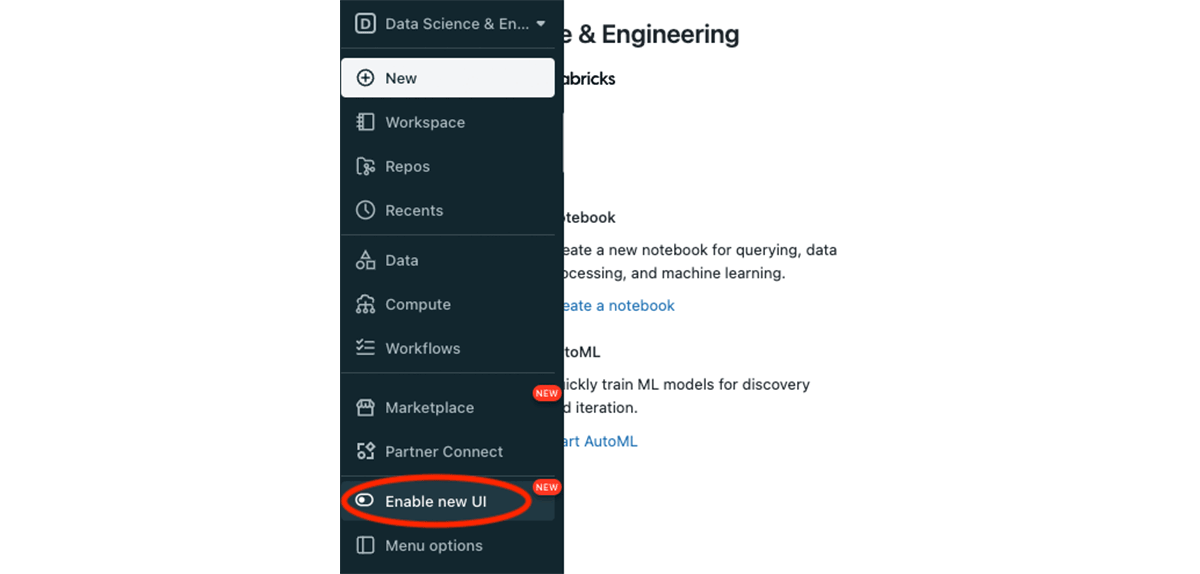 The brand-new UI will become the default experience for all users in Databricks, however it will stay default off while we get and deal with feedback. Watch out for in-product and e-mail alerts for when we are all set to transfer to the next stage.